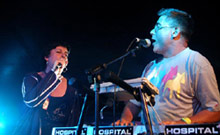 Gro├?e Ereignisse werfen Ihre Schatten voraus. Oder um Hospital ungeniert zu zitieren: "There is still no-one else like LONDON ELEKTRICITY LIVE, with absolutely NO playback, NO click
track, and NO computers on stage – just top quality musicians and vocalists rolling out the most high voltage soulful, dancefloor Drum & Bass music you've ever heard."
F├╝r S├╝ddeutschland gibts zudem ein besonderes Schmankerl:
Die Depot-Crew und Santorin haben es geschafft, London Elektricity mit der Live Tour ihres aktuellen Albums Power Ballads (von dem hier ausf├╝hrlich die Rede sein wird) nach T├╝bingen in's Depot zu holen! Nach Aussage von Lightwood auch, ohne daf├╝r morden zu m├╝ssen…
Am Sonntag, 6.11.2005 ist es soweit. Bookmark this date!
(Vorsicht: Das steht noch nicht auf der Depot und Hospital-Seite)
Alle anderen gehen hier hin!