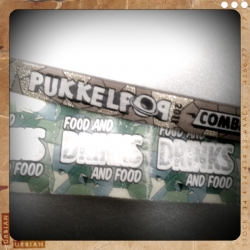 One year ago we wrote our Festival Manifesto for the most delightful spot we've ever been to:
The Pukkelpop 2010 in Belgium.
The 25th edition of a festival full of perfect sound, peaceful atmosphere and party without reservation.
An autarkic island.
A sunny institution.
So this year we travelled back to that perfect place to attend Pukkelpop 2011 and all our anticipation and positive thoughts got swept away in an apocaliptically thunderstorm within minutes.
10 minutes that turned the picturesque island into a ruined place.
The eyewitness reports (http://www.bbc.co.uk/news/world-europe-14590667) contain strong phrases like "end of the world" and they are right. We never experienced such an intense demonstration of force of nature in our whole lives.
And we are the lucky ones: No casualties in our group of five.
At about midnight we had all managed to get back to our hotel (the storm ended at about seven), were able to change clothes and sit together and talk about what we had seen. We are truly gratetful that our day ended like this.
Our thoughts go out to all those people who really suffered: the dead and injured and their loved one's, the parents who searched for their kids and vice versa, friends who searched for each others, all the people on the camping ground.
The festival organization, the rescue teams and the city of Hasselt dealt with the whole thing remarkably well – and like last year we met lots of friendly and open-minded people.
Thank you Belgium, thank you festival-goers, thanks to everyone we met on the ground, at the hotel, at the trains.
With those experiences in our hearts we'd love to come back to attend Pukkelpop 2012 – with respect for the victims. And we feel like a lot of people attending the 2011 edition feel as we do.
Let's come back in 2012 and turn Pukkelpop into that peaceful island again, that it has been before August 18th 2011.
Please support all efforts made to make Pukkelpop 2012 happen!